Catering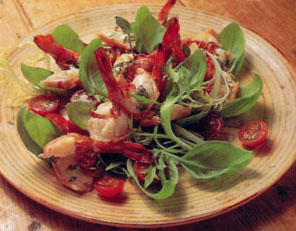 With a combined experience of over 30 seasons running Chalets in the Alps, Clair and Phil have developed a reputation for producing a varied and exciting menu of excellent food.
Clair has built on her Chalet experience in the winter with summer employment as a chef in some well-known restaurants in Edinburgh - including Mal Maison (French Bistro) and Henderson's (Edinburgh's original Vegetarian / Vegan restaurant). This, combined with her background as a state-registered Dietician makes her an asset in any kitchen! All menus are planned by Clair, and staff are trained in the preparation of the dishes and supervised in their delivery to maintain quality standards.
Smitten By Snow aims to provide a high level of catering. We also wish to be flexible in the range of meals that we provide. Thus, if you have a favourite dish - or indeed a whole menu (within reason!) - that your group would like during the week, then discuss it with us in advance, and we will be happy to accommodate your wishes.
Diets
Provision can be made for vegetarians, vegans, non-red meat, fish-only, dairy-free and gluten-free diets etc. We are happy to arrange a separate menu (and dinner time) for children.
Breakfast
Bacon and Eggs (other eggs for non-meat eaters), Porridge.
Selection of cereals, croissants, yoghurts, fruit juices, fruit, fresh bread and jams.
Tea, Hot Chocolate and Filter coffee.
Lunch
There are a variety of restaurants (many on the piste), several takeaways, a mini supermarket and a bakery in the village to help you with your lunch choices.
In addition, there is a loyalty card scheme operating in 14 restaurants on the slopes - providing a main course and drink for around 12-14 Euros. Contact us for further details.
Afternoon Tea
Freshly made cake, bread and jams. Tea, Hot Chocolate and Filter coffee. Selection of cordials.
Dinner
(Times as examples, we will agree before arrival. Children can be earlier)
19:00: Vin Chaud
19:30: a four-course menu to delight and satisfy the healthiest of skiing appetites - accompanied by AOC quality bottled French wines or soft drinks.
For example:
Greek Feta Salad with caramelised red onions and a balsamic vinaigrette
Fillet of Salmon marinated in a light ginger and chilli jus; pan seared and served with Noodles, Roasted Fennel and Pumpkin Mash
Chocolate Roulade with a raspberry reduction
A meal in France would not be complete without savouring some regional cheeses. We provide a changing selection
Filter coffee / Selection of Teas